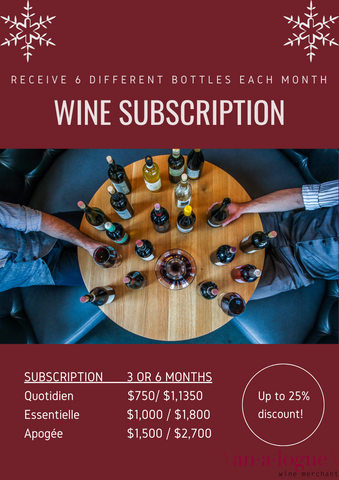 Wine Subscription
$1,00000

$1,000.00

Save $200
---
---
A simple, fuss-free way for you to discover new wines - we are proud to present our monthly wine subscription service.
How does it work?
You will receive a pack of 6 different bottles at the start of each month, tailored to your taste and preferences.
With several subscription tiers available, it is up to you to choose both the length and the monthly budget that you wish to spend on a pack. Just click on your preferred option below:
Quotidien - a selection designed for everyday drinking.
Essentielle - vital wines for any wine-lover.
Apogée - wines from the very peak of our portfolio.
The key benefits of the subscription

Price: Get our best wines at exceptional value! All the wines are priced at an up to 25% discount, compared to our usual prices.
Exclusivity: Every bottle will be selected according to your personal taste profile, which we will create together during an exclusive wine tasting session (at AWM office or in comfort of your home). We will also collect your feedback after every pack delivery and will use it to design your unique wine selection for the next month.
Get more for less: Enjoyed any of the wines from your pack? Buy it the same month at a subscribers-only 20% discount!
Comfort: No need to worry about the wine selection for your next party or to carry heavy bottles from your local store. Have the wines you like when and where you like them.
Adaptability: We want to make this subscription truly personal and flexible for you. You don't have to pre-select the wine type and style in advance. Do you want all the wines to be red? Include a bottle of sparkling for a special occasion? Experiment with the rose? Just let us know and we will take care of it.
And more..
Enjoy extra perks and small surprises such as personalized wine & food pairing recommendations or a complimentary tasting (150ml) bottle of our New Arrivals or Best Sellers with each pack! Get access to exclusive discounts and promotions at analoguewinemerchant.com.
How do I subscribe?
It's very simple! You just have to choose the Subscription option below and answer a short questionnaire that will help us to define your Wine Taste Profile. Please click here for the questionnaire. It won't take more than 5 minutes.