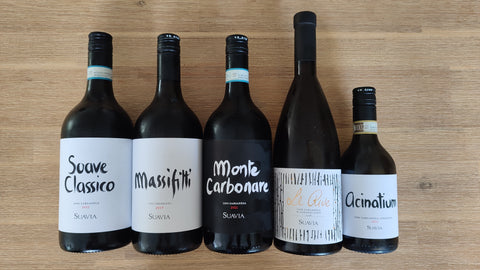 Sampler Packs: 5 wines at a price of 1 bottle - SUAVIA (9-16 Aug)
A simple, fuss-free way to discover new wines.
Treat yourself (or your friends) to a wine tasting in the comfort of your home. Try six different wines without having to spend a fortune. Learn more about different regions and varieties. Or just enjoy that (much needed and well deserved) glass of wine for brunch without having to open the full bottle. 
We've got you covered with our tasting packs!
 Our sampler packs are unique bundles of our favourite wines across our entire portfolio. They are a 6-wine tour experience, with detailed information about each wine, including tasting notes & food pairing recommendations. 
Each bundle contains up to 6 tasting bottles of 100ml each.
Pack content: This week's pack contains the full range from Suavia:
2022 Suavia Soave Classico
2021 Suavia Soave Classico «Monte Carbonare»
2019 Suavia Bianco Veronese «Massifitti»
2018 Suavia Bianco Veronese «Le Rive»
2021 Suavia Recioto di Soave Classico «Acinatium»

Taste more, spend less: Enjoyed any of the samples from the pack? Order a full-sized bottle from us at an exclusive 20% discount off our normal pricing.
Delivery: We are working with our trusted vendor to make minimal contact deliveries, without compromising exceptionally strict standards for temperature control and handling. We will deliver the wines on the next working day, please indicate in the comment section if you have any preferred time slot.